DevOps is the right answer to the challenges you have to face in the context of digitalization to remain successful on the market.
By delivering frequently and monitoring user feedback, you go through a steep learning curve for your service quality, thus remaining attractive to your customers because you know what they really want.
Beyond functional and non-functional aspects, this is the essential quality aspect in the age of digitalization.
Do you have any questions?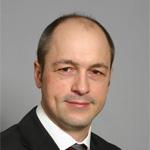 Dr. Stefan Jobst
Test & Quality Management
+49 89 96101 1485
stefan.jobst@msg.group
The benefits of DevOps speak for themselves
msg is the right partner for your DevOps journey
Speed
Quarterly releases at most
Long waiting periods for feedback
High lead times for infrastructure provisioning
Time-intensive test cycles
Quality
Unsatisfied customers/ poor user experience
High number of defects in production
Reputation-damaging go live disasters
Headline-making system failures in the scope of changes
Motivation
High stress level in ops
Finger-pointing between silos
Night and weekend work
Securing your own area
Large amount of unplanned work
Biz
Permanent monitoring of customer requirements
High availability for the dev team
Dev
Fast response to new/ adjusted requirements
Consideration of operation needs
Test
Increased test speed
High-frequent regression testing
Implementation of continuous testing
Sec
Early definition of security requirements
Ops
Readiness for high-frequency productive rollouts
Implementation of modern risk management methods
Orga
Work across teams
Feature-oriented lineup
Broad T-shaped profiles
Processes
Short lead times
Continuous processes from requirements to go-live
Active feedback process
Tools
Efficient automated Continuous Delivery Tool Chain
High level of automation of regression tests
Automated provisioning of environments
Culture
No blame
Whole-team approach
Intensive collaboration
msg provides all quality assurance aspects from a single source
Our working method
Assessment of product quality/customer satisfaction
Localization of test tasks in the project organizational chart
Determination of relevant roles and artifacts in the test process
Elaboration of skill levels and mindset of testers
Assessment of mood/cooperation behavior in the team
As-is assessment of the use of test/PM/communication tools
Measurement of the degree of automation (testing, provisioning)
Identification of existing feedback mechanisms
Results
Organizational chart with assignment of test tasks
Overview of the main processes
List of tools used
Formulation of target scenarios for organization, processes, tool support, culture/ mindset
Comparison of best practice examples from msg projects
Consultation of msg DevOps and test experts

Results
Comprehensive coverage of developer tests
Intensive communication between test and development
Structured approach to exploratory testing
High frequency automated regression tests
Automated provisioning of test environments (IaC)
Cleanly designed version management of test cases
Intensive monitoring of the application in production
Identification of levers and fields of action
Coordination and prioritization of measures with the customer
Identification of adequate resources/capacities
Definition of responsibilities and scheduling of measures
Results
Project schedule with task packages and milestones
Indication for costs and efforts for measures to be implemented
Examples:

Adjustment of task/team average
Redesign of processes
Evaluation of tools
Development of know-how
Change management (adjustment of the organizational structure, re-assignment of responsibilities, etc.)
Adjustment of processes (e.g., defect management)
Expansion of tool support and integration (e.g., provisioning, monitoring, communication, etc.)
Coaching DevOps mindset
Training/ support for exploratory testing

Results
Reduced number of defects in production
Increased employee satisfaction in the project
Reduced runtimes/optimized coverage of
Regression tests
Continuous feedback from production