The right information at the right time in the right place – this is a key success factor for companies today. Only someone who has access to up to date information on, for example, market developments, customers and competitors, internal processes or developments in politics, economy and society at all times can respond quickly to changes, make business operations more profitable and secure a competitive advantage.
BI systems: Turning data into knowledge
BI systems transform data into information by extracting, processing and combining structured, semi-structured and unstructured data from internal and external sources. By analyzing the information obtained in this way, users can generate knowledge that is relevant for decision-making.
In the case of predictable questions, the data is extracted, transformed into a consistent, harmonized state and historicized as required. In particular, this involves cleaning the data and consolidating it both syntactically and semantically. In the search for unknown correlations, the data is searched for specific patterns, for example using data mining technologies.
BI systems transform data into information. Users can then generate knowledge that is relevant for decision-making.
With new technological possibilities, new sources of data are more and more focussed on – for example, social networks or machine-generated data. This not only increases the requirements placed on the supply, processing and management of data in BI systems, but also those placed on the generation of knowledge by the users in the company.
A capable BI architecture can meet all of these demands thanks to flexible data processing, information retrieval and analysis capabilities. Collaborative functions support rapid interpretation of the information and ensure the efficient generation of knowledge as well as confident decision-making.
Independent BI consulting tailored solutions
In order for you to really make the most of the potential of a business intelligence solution, the BI strategy and BI system must be tailored to your individual requirements. In addition, your budget and resources should be deployed in a strategically, tactically and operationally effective way. This requires expert and objective BI consulting which is focused specifically on your needs.
We provide you with independent consultancy. Our experienced interdisciplinary teams of consultants, business analysts, software and industry experts combine industry expertise with in-depth technological know-how. They are not only skilled in agile and phase-oriented process models, but are equally familiar with BI trends such as "advanced analytics", "BI in the cloud", "Big Data", "business analytics", "in-memory analytics", "mobile BI" and "self-service BI". This enables them to systematically examine topics, technologies and processes to see if and how they benefit your organization and offer you tailored and state-of-the-art BI solutions.
msg.BI-Service and Solution-Portfolio - all solutions from a single source
As an expert partner, we offer you all the services you need from a single source: We provide comprehensive support for your business intelligence project, from strategy consulting, analysis, elaboration and realization of the optimum BI architecture or solution as well as for the selection of suitable platforms, tools and process frameworks through to ongoing operation. Since BI projects place high demands on the IT infrastructure, we are also able to assist you with our in-depth knowledge of performance tuning and sizing.
Our msg.BI service and solution portfolio includes defined strategic and technical BI services and business BI solutions.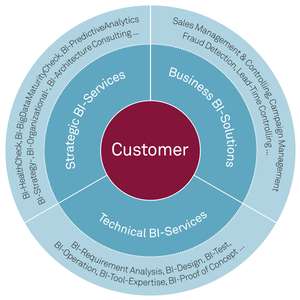 Our BI portfolio: Services and solutions from a single source
Our strategic BI services combine a variety of consulting services and look at the impact of BI landscapes, applications and technologies on the organizational processes in IT and BI organizations.
Our technical BI services analyze your needs and support you with, among other things, requirements analysis, design, implementation, testing and operation.
With our business BI solutions we supply cross-industry as well as industry-specific frameworks for business issues that enable users to take advantage of the BI application more quickly.
For our services and solutions we have, based on our BI expertise developed process frameworks, templates and best practices that we can adjust to the specific requirements of our customers.
Process framwork msg.PROFI-BI: Flexible use in agile or phase-oriented scenarios
In our experience, the usability of general software development models for business intelligence is limited. With msg.PROFI-BI, we have further developed msg.PROFI, our tried and tested process framework for IT projects, in such a way that it is focused on specific BI-related aspects.
The great advantage of our BI process framework is its flexibility. This is because msg.PROFI-BI embeds BI-specific activities, deliverables and resources in specialist areas – and not in phases. This decoupling makes msg.PROFI-BI so flexible that it can be used in both agile and phase-oriented process models.
msg.PROFI-BI in agile and phase-oriented process models
In the agile process model, msg.PROFI-BI uses finely detailed activities for short work steps. In the phase-oriented process model, summarizing activities, deliverables and resources are mapped to the individual phases of BI project lifecycles.