You know how enormously important data is. With mocca.AI, you get access to all key information to efficiently make the right strategic and operational decisions for your company.
Let your data do the talking
Let your data do the talking and create informative dashboards, analytics, and reports. Share insights via e-mail, collaboration platform, or mobile app.
Use the predefined strategic dashboards, analyses and detailed reports for target and actual analyses or customize them to meet your needs.
Deviations can be investigated by means of detailed reports using drill-through functionality.
Create your own informative dashboards and self-service detailed analyses and share them with your colleagues.
Benefit from a variety of predefined business metrics and KPIs or create your own business insights.
Highlight and comment on conspicuous data and share it via e-mail, collaboration platform or with the mocca.MobileApp.
The mocca.MobileApp gives you access to your data anywhere and at any time and allows you to quickly navigate to your personal selection of information.
Due to the Microsoft Office integration, your business reports are always up to date.
Create interactive presentations in the form of a guided tour through your data with the mocca.StoryBoard.
Use one of the many export formats to further process your report data.
Integrated business planning
Are you painstakingly consolidating data from a multitude of Excel sheets?
Use mocca.Planning for your integrated results and financial planning.
Create individual planning models in your mocca.AI solution for cost and revenue planning, personnel and investment planning through to cash flow, profit and loss and balance sheet planning.
Create a top-down strategic business plan and align it with your bottom-up operational plan. Use scenarios and sandbox functions to run through "what-if" scenarios or "best" and "worst case" scenarios, for example.
The web interface enables a company-wide distributed collection of your data, thus ensuring reliable budget and forecast planning through to an AI-supported rolling forecast.
Choose modules for your business analytics solution according to your needs
Because of its modular structure, mocca.AI enables you to grow your business analytics solution according to the needs of your company.
Each business module provides a variety of predefined industry-specific metrics and value-adding KPIs.

Project duration and costs are significantly reduced compared to traditional business analytics projects thanks to predefined content.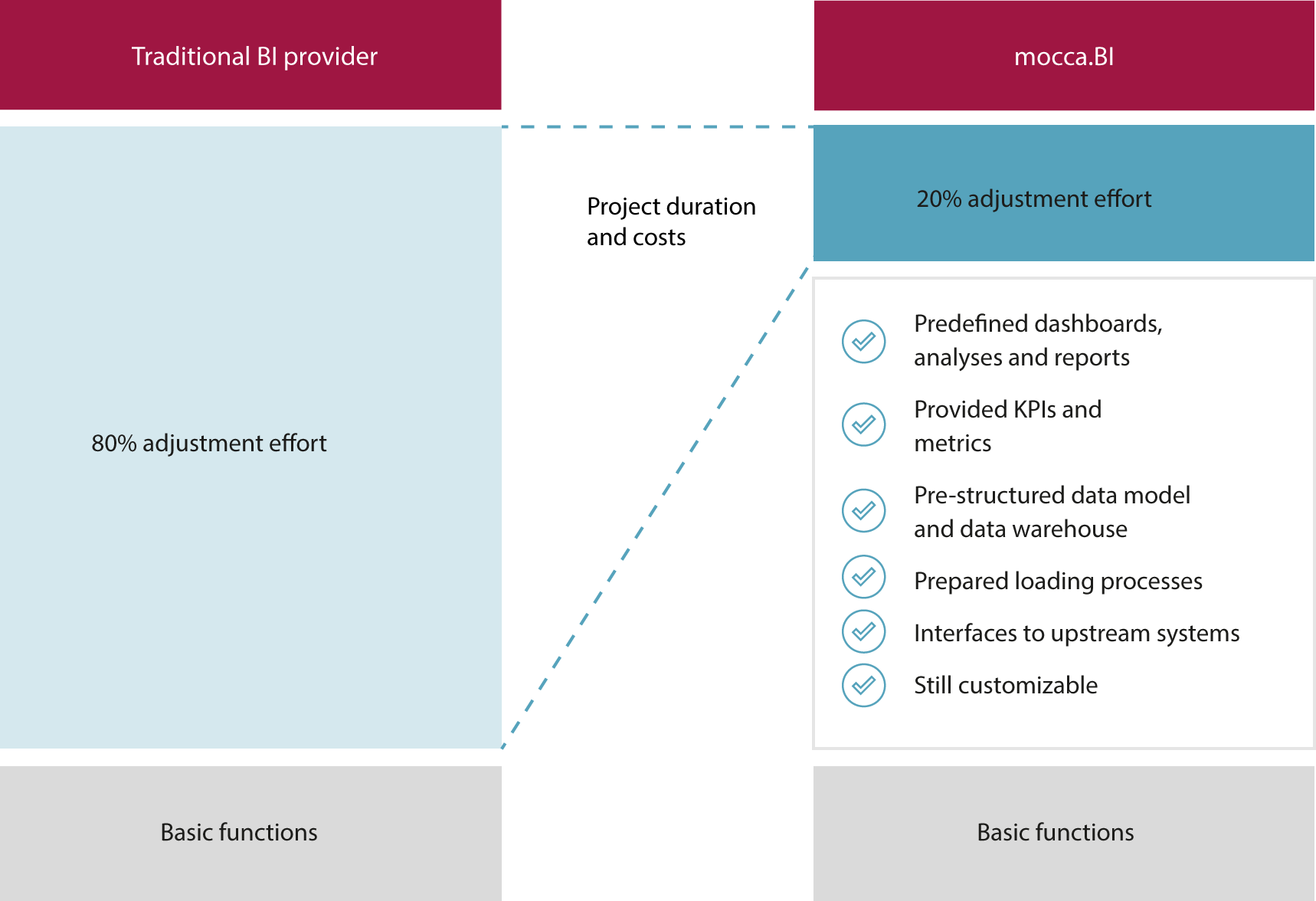 Company-specific customizations can be added at any time and seamlessly integrate with existing data models, reports, analytics and dashboards.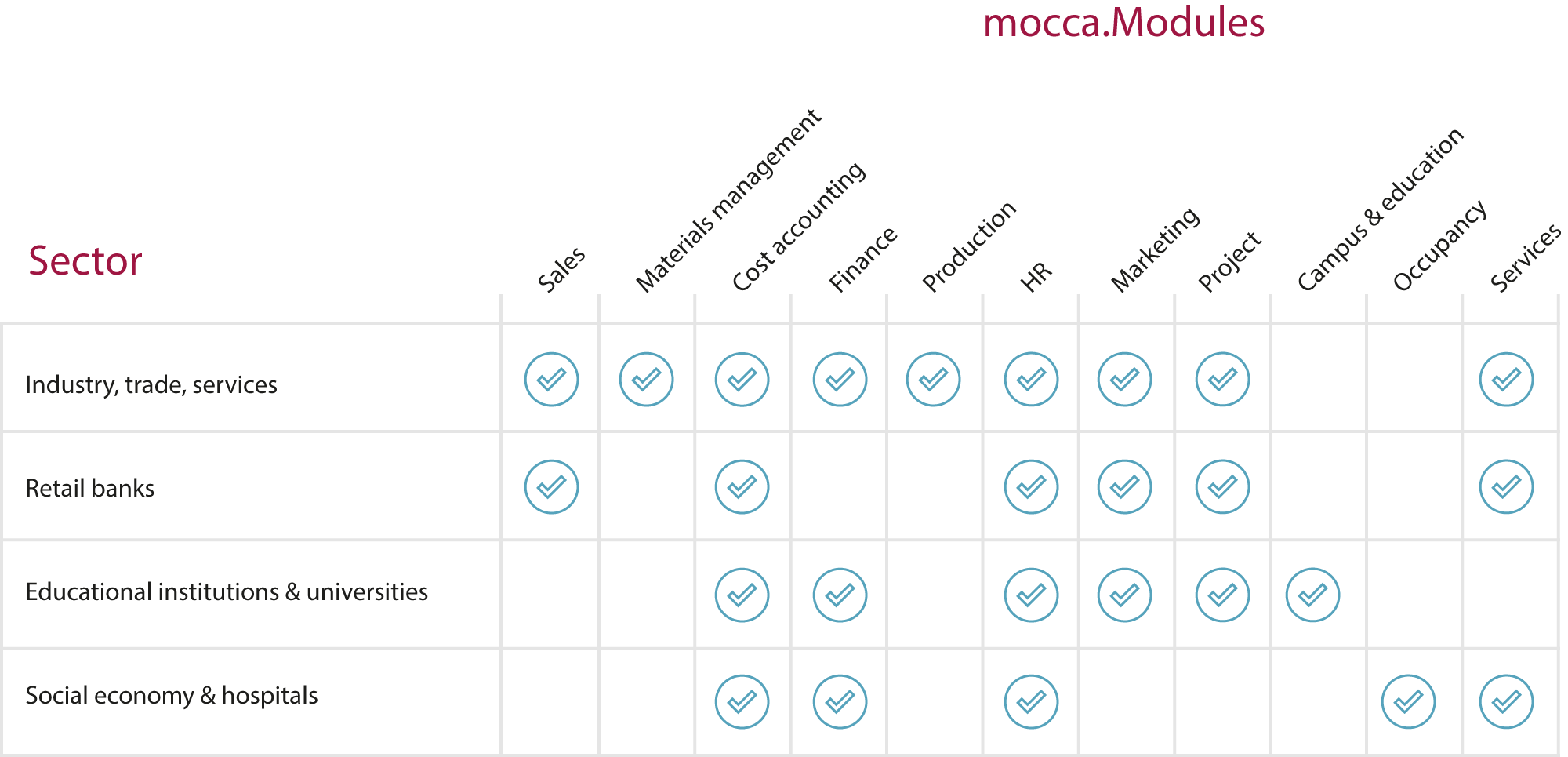 Are you missing a module you need? Contact us and let us discuss your specific needs.
We are pleased to support you with individualization and customizing of mocca.AI.
Gain insights from your data using artificial intelligence
Be a step ahead of the present and take a look into the future of your controlling-relevant KPIs by means of predictive forecasting.
Explore previously undiscovered relationships in your data with the help of AI.
Use data exploration and decision trees to gain new insights.
Detect patterns or anomalies in your data.
Use root cause analysis to create reliable predictive models.
Recognize and react to trends and changes in your business processes at an early stage.

mocca.ETL powered by Talend

Powerful industry-standard data integration and data refinement tool
Due its graphical process and data flow modeling, mocca.ETL is suitable for specialist departments and supports you in integrating company data and important external data into the data warehouse.
With its many connectors, mocca.ETL provides access to all common database systems, web services, file types and Big Data frameworks.
Source systems can be integrated into mocca.AI in a very short time by using the prepared process templates.
mocca.SAPxtract

For SAP R/3 or SAP S/4HANA users
mocca.Services

Operation and maintenance as a service
Architecture & infrastructure

On-premises or in the cloud
Our Partner