The intense competition and high change prospensity of customers are having a negative effect on the insurers' margins in the motor vehicle mass market. With SAP Policy Management Auto (FS-PM Auto), a sector-specific add-on for the SAP FS-PM policy management system, you can efficiently handle all business processes for the motor vehicle sector. Thanks to standardized and automated processes, which can be expanded and flexibly adapted, you can save costs and react quickly to changed market and general conditions.
Extensive automation options enable efficient reproduction of standard business transactions. These can be used directly for the administration of motor vehicle contracts, as the policy management solution can be integrated seamlessly into SAP FS-PM.
The motor vehicle insurance solution supports the requirements for Germany and Austria. For these countries, FS-PM Auto provides sample products and customization for all included standard motor vehicle processes. These samples accelerate the introduction of the product and allow fast and cost-effective adaptation to individual customer requirements.
The standard motor vehicle processes for Germany include:
Change of insurer certificate (VWB)
Model index
Model and regional classes
The standard motor vehicle processes for Austria include:
Get in touch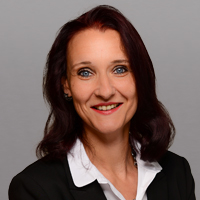 Yvonne Grau
Head of Business Area
Insurance SAP Consulting