Are you planning a comprehensive software release or do you want to implement a new system? During this time of digital transformation, speed and agility are essential factors for successful software development – and as a key component of the development process, testing must also be faster, more agile and digital. The goal is to ensure high software quality, an optimal user experience and a constantly growing number of go-lives as part of the continuous software delivery process.
Our established methods, consulting and tools will help you digitally transform your software development process. By establishing a Continuous Quality Assurance Advisory, we are able to help you transform your quality assurance from downstream troubleshooting into an integrated, agile Quality Assurance Advisory with permanent feedback loops.
Our experienced teams of consultants, industry experts and software specialists know where the vulnerabilities in software tests lie, are able to identify risks early on and know how to prevent them. We employ a well-structured approach model to optimize your test methods and take options to digitize the software development process into consideration when choosing the proper tools, such as integrating graphical and predictive analytics solutions. By establishing a Continuous Quality Assurance Advisory, you can sustainably ensure the quality of your products, processes and projects, while also generating considerable time and cost savings.
Service Portfolio
Test Management and Managed Testing Services
Consulting on test strategies, design and methods, as well as on test process optimization and how to make the process more agile
Consulting and implementation of graphical / predictive quality assurance analysis
Help with test data management, test execution, design and provision of test centers
Managed testing services, whether on site or from shoring centers
Load and Performance Tests
Project, Risk & Quality Management
Application Life-Cycle Management
Get in touch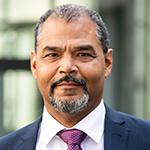 Recardo Jackson
Executive Vice President
Business Intelligence
Test & Quality Management