msg: Distinguished expertise
As an independent and globally operating group of companies with a 40-year history, we don't just focus on short-term success. We see ourselves as trailblazers of a digital future – in a spirit of partnership and sustainability. The trust that many well-known companies - including 19 DAX-listed companies – have placed in us over the years goes to show that we stand by our word. And the numerous awards that we, as msg, have received underscore our reliability.
Do you have questions?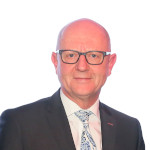 Johann Ranft
Head of Global Alliance Management
+49 89 96101 1560
johann.ranft@msg.group