Output management is communication well thought through
The digitalization of our daily lives is changing communication in particular. Communication is becoming faster, shorter, and more direct, and is seeking out new channels and forms. Over the next decade, insurers still have to use all channels - letter, fax, e-mail and chat. They need a website as well as the printed brochures for the local broker, online forms along with the paper version. But despite all the new forms of media and channels, language remains crucial in dialog with customers.
Companies that ignore these developments in language and channels risk their long-term economic success.
For insurers, three key strategic questions arise:
What is my customer's preferred means of communication today - and tomorrow?
What preferences do my customers have when it comes to communication?
How do I efficiently ensure target group-oriented communication across all channels?
Together with you, we answer these questions. With over 20 years of experience, more than 100 specialists and a close-knit partner network, msg is the leading IT service provider in the field of output management. We support you throughout the entire process chain with our industry and technical expertise.
Do you have any questions?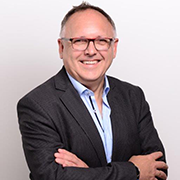 Erwin Gorny
Division Manager of Solution Consulting
Different customers - different requirements
What requirements does a modern output management solution meet?
Recipient-oriented
wording
Simple and intuitive letter writing for the clerk
Reaching customers on the right channel
A high degree of automation
Standardized interfaces and modular architectures on flexible platforms
Simple text maintenance for and by the specialist departments
And what does the future of communication look like for insurers?
The future is hybrid. At least for the next decade. Digital and paper-based communication exist in parallel. However, the answer to the question of the future of output management is not just a technical one. The tasks for insurers are broader:
Communication should be viewed holistically and as a continuous cycle of interaction between customers and the company. Every communication from the insurer impacts overall satisfaction and customer experience.
Customized communication strategy:
Communication without barriers:
Competitive response times:
Modular output components:
Use the potential for your digitalization and communication strategy
High standard in communication
Address your customers in a targeted and consistent manner –
regardless of the number of your systems and possible transformation phases.
Cost reduction
Cost transparency in the industry is currently low.
Designing your systems to meet demand creates clarity and enormous savings potential.
Automation and AI
Automation and AI are essential factors for low costs, customer-friendly service and high quality.
To date, these methods have been little used in the industry.
Service optimization
Take as much responsibility as you desire, thus optimizing service and quality.