Demographic changes, the consequences of climate change, globalized markets and new regulatory requirements are just some of the challenges internationally active reinsurers have to face. To overcome these challenges, they require standardized, flexible IT systems that can be used all over the world and that cover the varied requirements and business processes in reinsurance within a clearly defined general business logic understanding.
The core of our portfolio is formed by SAP Reinsurance Management (SAP FS-RI), the leading international standard software for the reinsurance industry. In addition to this, we also offer further modules for specific requirements:
SAP Reinsurance Management (SAP FS-RI)
With SAP Reinsurance Management (SAP FS-RI) we have developed the leading international standard software for reinsurance as well as for the reinsurance requirements of primary insurers. As a flexible, integrated solution, FS-RI supports all reinsurance business processes: underwriting, administration, renewal and termination of contracts and individual risks, invoicing and claims management, parallel accounting regulations, prognoses and estimates, etc.
SAP FS-RI is scalable and can be used flexibly, as proven by numerous installations for notable insurance companies around the world. All forms of reinsurance – mandatory and facultative, proportional and non-proportional, incoming and outgoing – are supported, including automatable retrocession. SAP FS-RI is able to operate in multiple languages and currencies.
We are constantly developing the software and adapting it to new market requirements – for example through optimized business process support, web service enabling or through support for the fulfillment of statutory requirements such as IFRS4 Phase 2. FS-RI thus remains future-proof and helps you to flexibly organize your reinsurance management.
Life Reinsurance Module (msg.LRM)
Professional Underwriting Management Application (msg.PUMA)
Risk Aggregation Management (msg.RAM)
Exchange Data Interface (msg.XDI)
iRE – Reinsurance in the Cloud
Get in touch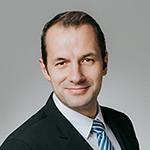 Andreas Weiss
Senior Vice President Innovation
Products & Development