The Act
Since January 2023, the "Act on Corporate Due Diligence to Prevent Human Rights Violations in Supply Chains" (in short: Supply Chain Act) has been in force in Germany. It requires companies to analyze the risks for human rights and environmental protection violations in their supply chains, to take measures to reduce the risks and to report on this. Violations of the due diligence and reporting obligations defined in the act can result in heavy fines.
The challenge
The complexity of supply chains has grown steadily in recent years. Regardless whether logistics, trade or production – companies often have more than 1,000 suppliers. To comply with the act, they need comprehensive knowledge of their supplier base and the associated risk to environmental protection and human rights.
Do you have any questions?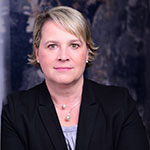 Irmgard Sturm
Head of Department Data Analytics
+49 173 4256848
msg.info-Analytics@msg.group
Our solution: LieSA
To support you in fulfilling your due diligence obligations, we have developed LieSA (LieferkettenSorgfaltspflichtenApplikation) (supply chain due diligence obligations application). LieSA is a solution approach that picks you up where you and your company currently are. It uses existing data and indexes to make an initial risk assessment of suppliers based on location and product information. Enriched with supplier master data and internal and external analysis data, the risk can be specified more precisely. If this indicates of human rights or environmental protection violations at a supplier, you can use the tool to define, manage and document corrective measures. The automated initial assessment helps you to quickly filter out suppliers with only low probability of risk so that you can focus your resources on suppliers with a higher risk.
Your benefits:
To implement the transparency and reporting obligations, we implement the requirements of the Supply Chain Act with a scalable and configurable solution. This solution is adapted to your needs and designed in more detail depending on
the data situation in your company
the integration into your supplier and risk management system
the additional added value for your company
your budget.
With this approach, you are also well prepared for the planned EU directive on sustainability in supply chains.
Do you have any questions or would you like further information about LieSA?