Sovereign cloud for public administration
The sovereign, national cloud is coming. It meets the special security requirements of public administration. It finally opens up the same possibilities for public authorities and other stakeholders that companies are already using today with offerings from hyperscalers: High scalability, elasticity and flexibility at lower costs and less personal effort. This is topped by location independence as well as better performance and availability. Public authorities at all levels of government will be the main beneficiaries of these advantages.


Digital sovereignty in the cloud
The sovereign cloud ensures the highest standards of data protection and data security as well as complete interoperability. These security standards - in accordance with the requirements of the Federal Office for Information Security (Bundesamt für Sicherheit in der Informationstechnik (BSI)) - are currently already established in many German data centers. Compliance with these security requirements is the basic condition for various cloud suppliers to become part of the national cloud. As a multicloud, the sovereign cloud will thus support a number of cloud solutions and also open source software.
The sovereign, national cloud must be technically, operationally and legally sovereign. All public sector data will remain in Germany. There will be a complete separation of the global data centers and the existing public cloud infrastructure in Germany.


We're shaping your path to the sovereign cloud
A technically, legally and operationally sovereign cloud use needs a clear direction, planning and preparation. We support you in choosing the right offering and ensure independence and balance between the various cloud providers. Together with you, we develop a tailor-made cloud first strategy, combine different cloud solutions, if required, and assist you step-by-step with the implementation.
Comprehensive independent support – the sovereign CloudCare concept of msg
Entry into the cloud means a modernization push, which entails technical and organizational changes. We are at your side as an independent partner to help you keep track of the numerous technologies, cloud offerings and possible strategies. We navigate with you through the options for IaaS, SaaS, PaaS and XaaS. We have years of cloud experience from other highly regulated industries as well.
msg's CloudCare concept combines strategies and design, innovation and transformation, services, security compliance, software and platform development and the need for infrastructure and operation in one package.
Do you have any questions?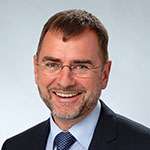 Werner Achtert
Head of Public Sector

+49 69 580045 1222
werner.achtert@msg.group
We advise and accompany you on your way to the digital transformation in the municipality.