24/08/2022
Ittigen/Ismaning, August 24, 2022 – msg is acquiring the IT and consulting company baeriswyl tschanz & partner ag (BTPAG), based in Ittigen/Bern, Switzerland, with immediate effect. The group of companies is pushing ahead with its internationalization and the further development on the Swiss market and is securing the 40 jobs of BTPAG in the long-term. Moreover, msg is thereby expanding the portfolio offered in Switzerland with consulting and project management and lean/agile services.
msg member of the executive board Dr. Jürgen Zehetmaier welcomes the acquisition: "Besides the fact that the comprehensive portfolios of msg and BTPAG complement each other perfectly, this step fits in excellently with our strategic alignment." msg is already represented on the Swiss market by the group companies msg systems, Finnova and Optravis, etc. msg will transfer its existing business with the public sector there to BTPAG in order to more effectively pool its strengths as the msg group on the Swiss market.
BTPAG will remain on the market as an independent company, and the sale of the share package to msg will give it great growth potential as a strong international and strategic partner. Marc Baeriswyl, CFO of BTPAG, is pleased about the successful succession plan. "Through today's stock takeover by msg, we were able to ensure the continuity of the company, in particular the safeguarding of jobs, as well as the preservation of the company name. This, in particular, is what we placed the greatest value on in all our deliberations."
Oskar Zodel, CEO of msg Schweiz (Switzerland), will in future take over as chairman of the board of BTPAG. Bernhard Emch and Remo Tschanz will continue to hold office as members of the board of directors. Operationally, the company is managed as before by Remo Tschanz as CEO. In the future, Remo Tschanz will sit on the public D-A-CH board. Marc Baeriswyl will remain in his role as CFO until his retirement at the end of 2024. The entire management team remains unchanged. Employees of BTPAG will be taken over. In addition, BTPAG will be strengthened by msg employees from the public business Switzerland. With these measures, msg is focusing on absolute continuity. Existing customers will not experience any changes.
In the future, both companies will be represented with co-working offices at the locations Ittigen/Bern, Zurich and Basel, which will bring immediate benefits for customers and employees.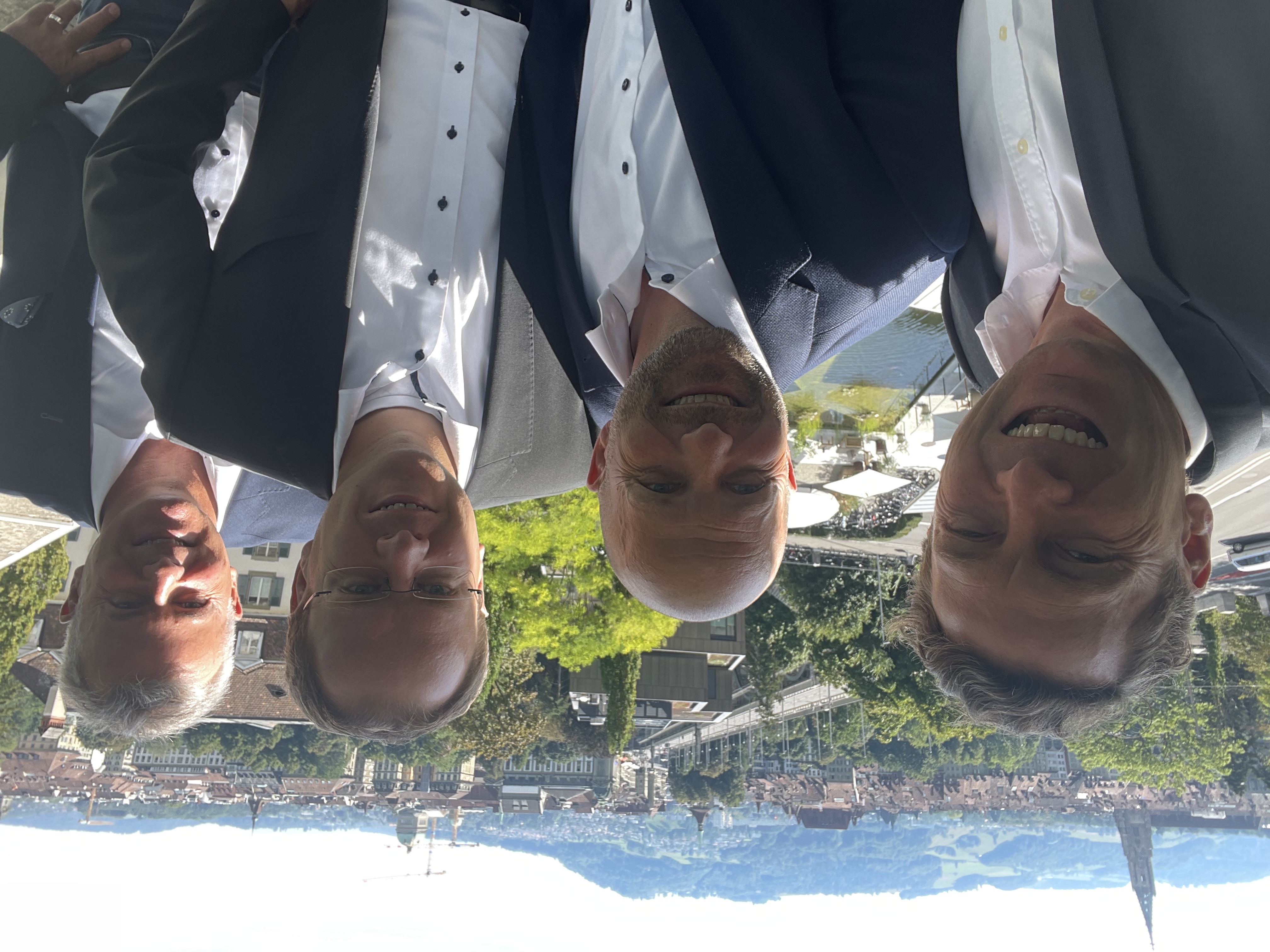 f.l.t.r. Oskar Zodel, CEO msg systems ag (Switzerland) and VRP BTPAG - Remo Tschanz, Deputy of the VR BTPAG, Dr. Jürgen Zehetmaier, Board of Management msg - Marc Baeriswyl, CFO BTPAG