koda.city: Using data for a modern municipality
For digitalization to succeed, it is crucial that as much of the data available in a municipality as possible is captured, securely managed and brought into logical relationships. This can create added value for the municipality and its citizens. This could be data on traffic flows, the weather, energy consumption or environmental pollution. Data sovereignty is the crucial keyword here.

Using open standards ensures future viability and interoperability of all systems involved. With koda.city, we have developed a municipal data platform that meets these requirements while offering the highest security standards. We will show you how koda.city, as a unified data space, can also support your municipality in its development.
Do you have any questions?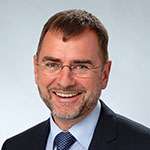 Werner Achtert
Head of Public Sector

+49 69 580045 1222
werner.achtert@msg.group
What's behind koda.city?
koda.city is the technological backbone of the intelligent municipality. The koda.city platform can record all acquired and relevant data using sensors/actuators and process it in realtime. This way, digital infrastructures can be connected via LAN/WAN, Bluetooth, radio connection etc.

Data is brought into logical relationships in realtime and onthologies are created. The results can be visualized using a cockpit or used via other connected systems.
The municipal data platform koda.city creates a coherent, overarching data space with uniform semantics.
By using data science and artificial intelligence, new insights and relationships can be developed and new use scenarios can be created.
The analyses and evaluations can be made available as "open data" to the municipal society or business start-ups.
One central prerequisite and task of the data platform is the provision of a uniform functional data model.
Discover how the smart community can benefit from koda.city:
Interoperability by design
In addition, koda.city orchestrates IoT devices and sensor technology based on the oneM2M standard. For the visualization of geodata in map form, koda.city relies on the OGC standards. This ensures compatibility and interoperability by design. By using open standards and software, koda.city follows the deployed reference architecture of the European Union Marketplace for Smart Cities and Regions (EU EIP SCC) as well as national standards of DIN Smart City Standards Forum and applies the highest security standards.
What koda.city does
Building comprehensively on standards with koda.city allows the municipality to add new applications and services at any time and without problems. In this way, the municipality can start with one area of the smart city application at the beginning and gradually extend or supplement this on the way to becoming a digital, intelligent municipality.
At the same time, the use of data can improve services in all areas of public services (from garbage collection and parking management to the planning of school buildings) and achieve a significant increase in efficiency, for example in administration.
Above all, however, the standards-based platform koda.city enables services to be linked across various municipal fields of action.
And last but not least, urban planning can already be carried out more transparently and with a high level of detail thanks to the expanded database.
In this context, it is essential to reach an understanding on all issues related to the collection and use of data, i.e., data protection, control or sovereignty, data benefits, economics and ethics.
With koda.city, the municipality owns the data. It can be used by citizens, private companies and other interested parties. The owners decide access, data protection, etc.
As standard for municipalities, koda.city makes it possible to think about and implement use cases across the board simply and without much effort. Digitalization thus does not end at the city limits.
With koda.city, you create a uniform data space for municipal development. We provide you with independent consultancy.