Efficiently organized business processes and company-wide standardized portfolio management are of vital importance to insurance companies. With msg.PIA (Primary Insurance Application), we offer you a fully developed, process-based all-sector solution with impressive standardized, process-oriented interfaces and simple operation which enables flexible, efficient portfolio management. msg.PIA supports all central processes of composite and life insurers and also meets the requirements of portfolio-keeping insurance brokers. It is also possible to integrate new sales channels without any problems.
msg.PIA, which has been in successful international use for over 10 years, offers the option of using SAP-based standard solutions such as SAP Business Partner and FS-CD. Thanks to the service-oriented architecture (SOA) and the open design, it can be adapted to your specific requirements without any problems and be used with all common databases and computer systems. Annual releases with comprehensive documentation ensure continuous adaptation to market developments.
In the modular integrated portfolio management system with embedded product calculator, all modules are perfectly coordinated with each other. The modules include quotation, product and contract administration; partners, claims and benefits processing; commission, re- and co-insurance, collection and disbursement, invoicing, actuarial mathematics and also fund administration.
In the field of property insurance, msg.PIA covers all sectors of the private and industrial business. In addition to general business transactions, this also includes sector-specific transactions such as extra dividends/premiums, provisional cover, dynamization, subsequent adjustment, change of vehicle, seasonal contracts etc. These extensions mean that the system can be used universally. The open architecture also allows these transactions to be combined with company-specific actions. To reproduce the motor vehicle sector, msg.PIA has been expanded with msg.eVB to include the necessary functions, such as electronic confirmation of insurance or previous insurer queries.
In the administration of the conventional life insurance industry and of unit-linked life insurance, msg.PIA integrates a standardized life insurance mathematics module which is controlled via a communication interface. Other actuarial systems can also be connected to msg.PIA.
Get in touch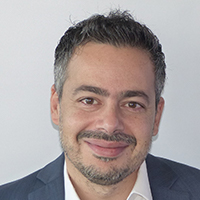 Manaf Berrada
Principal Business Consultant
Sales msg.PIA
+49 174 1959627