About Wake Word
Wake Word creates magic audio moments for its end customers. The team of experts of Wake Word develop and produce podcasts, voice apps, audio branding and content at the highest level. Wake Word also provides its customers with Podius, an independent media planning platform that enables measurability, comparability and optimization of podcasts.
Challenge
The Wake Word development team was lacking additional dedicated AWS development capacity quickly launch Podius, a serverless solution they designed themselves. This required a fast and flexible ramp-up of the development team with comprehensive AWS development know-how to accelerate the implementation of the state-of-the-art solution architecture based on AWS and to be able to launch the podcast and analytics platform PODIUS as early as possible.
Solution
The professional implementation together with msg's certified AWS experts shortened the go-to-market of the Podius media planning platform. In addition, thanks to the professional development in the team, the benefits of the AWS cloud-native architecture come to full fruition. Wake Word thus benefits, for example, from the flexible scalability, low administration effort and high data security of the new serverless solution. In addition to the fast go-to-market, a lower total cost of ownership (TCO) was achieved.
The serverless solution in detail
Back-end of the application in NodeJS
Front-end of the application in VUE
"Because msg provided us with the AWS-certified development capacity virtually at the drop of a hat, the go-to-market of our media planning platform Podius was shortened. Without this support, it would have taken us much longer."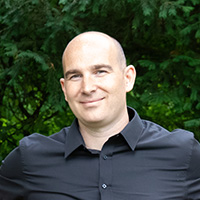 Stefan Volkmer
Head of Development,
Wake Word GmbH