More than process mining. With us you achieve process excellence.
Your business processes influence everything you do and the marketability of your company. With Business Process Intelligence (BPI) you can transform your organization into an intelligent enterprise and optimize it profoundly.
Leverage the BPI lifecycle for your company:
Gain new insights from existing processes continuously and quickly and react with appropriate actions. By regularly going through the BPI lifecycle, you will achieve process excellence step by step. At the beginning, a process analysis or a process monitoring is set up, which results in new findings for the design of a target state. The target state is implemented with appropriate actions in the Improve phase, subsequently introduced into operations and its compliance monitored.
Going through the BPI lifecycle successfully requires the right BPI system landscape!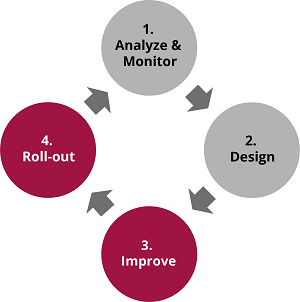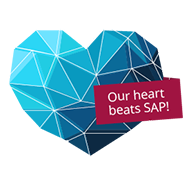 Do you have any questions?
The BPI product portfolio for the BPI lifecycle
The figure below provides examples
of which systems we can use in which phases of the BPI lifecycle.
SAP BPI use cases
BPI significantly contributes to the success of the following projects:
Change management as part of the switch to SAP S/4HANA / RISE with SAP
Process harmonization and simplification
Control of mergers and acquisitions
Optimizing end-to-end processes
Order-​to-Cash
Purchase-​to-Pay
Plan-​to-Produce
The SAP BPI product portfolio
SAP Process Insights
Automated analysis of SAP processes from a business and technical perspective
Signavio Process Intelligence
Detailed analysis of system-supported processes based on custom key figures by means of process mining
Signavio Process Manager
Corporate modeling and establishment of a process landscape
Signavio Journey Modeler
Definition and analysis of customer journey and customer experience along the process landscape
Signavio Process Governance
Setting up workflows and implementation of governance requirements
Signavio Process Collaboration Hub
Establish a centralized and cross-team location for collaboration among all stakeholders and access to all data, processes, and analytics from BPI
Discover the BPI accelerator by msg
Our service – A one-​stop-shop for your processes along the BPI lifecycle
Setup BPI
Setting up a process-oriented organization and custom BPI strategy Technical provision, introduction and configuration of the BPI system landscape.
Process design and modeling
Process modeling for audits or
S/4HANA transformation
In addition to technical tools, we also have our own msg reference models and best practices.
Process analysis and monitoring
Automated analysis of all SAP processes based on pre-defined performance key figures and/or detailed analysis by means of process mining.