22/03/2022
FRANKFURT – The identification provider Verifeye Online and the consulting company msg security advisors forge a strategic partnership. Their aim is to provide companies with innovative end-to-end solutions for secure digital identities and online ID verification.
With ID Suite 4.0. Verifeye Online and msg security advisors have developed a highly functional, highly available and money laundering act-compliant identity solution. It enables a fast onboarding process and stands out in terms of user experience as well as uncomplicated implementation. ID Suite 4.0 offers secure identification for natural and legal persons. It includes their authorization to act as well as trusted reusability of identities at any trust level in accordance with eIDAS. By combining qualified electronic signatures and seals, ID Suite 4.0 allows the efficient establishment of trustworthy digital transactions.
One interface, three verification options
Bernt Corneliussen, COO at Verifeye Online: "Verifeye Online started with the ambition to design the onboarding process, which is necessary for the use of trusted identities, that is fast, secure and user-friendly. With one interface, we offer all online verification options that comply with the current requirements of the European eIDAS regulation."
Steffen Schwalm, senior manager for digital identity & trust at msg security advisors, says: "Secure digital identities are the key to trusted digitalization. By allowing any digital identity to be used - provided the necessary level of trust is in place - ID Suite 4.0 enables the establishment of user-friendly, digital processes for all regulated industries."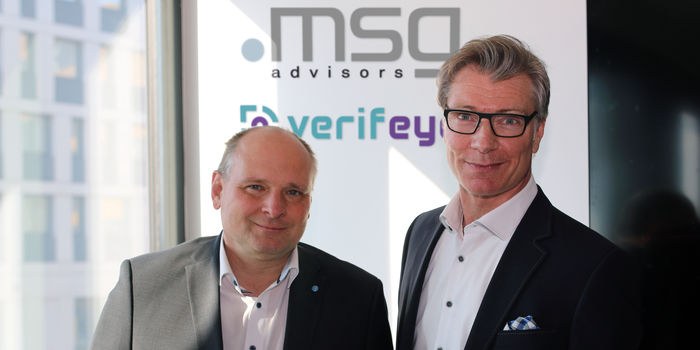 Jens Westphal, unit head at msg security advisors and Bernt Corneliussen, COO at Verifeye Online (l.t.r)
Comprehensive expertise
In cooperation with Verifeye Online, msg security advisors provide and operate the Ident Suite and integrate the different Verifeye onboarding processes (eID, Video, Auto-Ident, Konto-Ident). In addition, they provide mySaveID for the identity of legal persons as well as procedures for electronic signatures. They also provide consulting services. msg security advisors and Verifeye Online thus offer their customers solutions for user-friendly, economic and secure digital user journeys. ID Suite 4.0 has already been successfully implemented for the first customers in the banking sector and for online betting providers.