Well-placed with the msg.passbrains crowd
msg.passbrains precisely recreates your target audience. We select representative panels for your studies from the international passbrains crowd. Over 100 parameters in our member profiles allow precise panel selection and ensure the high quality of our results.
When putting together a panel, we consider personal profiles and other specific criteria of your target audience as well as the qualifications and previous evaluations of the participants. This way you can communicate with your target audience before your product or service is even on the market.
Our ever-expanding crowd is there for you when you need them – from end users to experienced specialist teams.
Do you have any questions?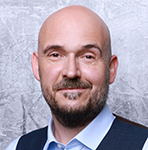 Johannes Widmann
Head of Department
Digital Assurance
Individually designed surveys
We'll gladly take on both the development of high-quality questionnaires as well as the execution of the survey. You can have us carry out different surveys along the entire product life cycle and at different phases of your study.
Real-time analysis
Thanks to our real-time analyses, you can access the status of your study results at any time and make use of it whenever you desire. At the push of a button, you'll receive any data and analyses, clearly presented, even before your study is finished.
Fast results
During your study, participants from your user panel will be notified on their mobile devices as soon as a new survey is available. Immediately after the participants have submitted their work results, they automatically receive evaluation points and fair remuneration.
This is how you get high quality results quickly.
The perfect focus: Your company's personal online community
Nobody knows better what your customers expect than themselves. That is why msg.passbrains offers you an exclusive online community for your company. Here you can directly involve the users of your products and services in your market insights, ideation, user experience and testing. With this feedback you ensure the success of your applications and at the same time strengthen your customer communication and brand loyalty.
Your employees also hold valuable potential for the future of your company. They often have deep insights into your products, find valuable solutions and want to be part of a success story. With your personal online community from msg.passbrains you can make use of free capacities of your employees and, if necessary, identify and harness specific skills while strengthening their motivation, commitment and identification with your company.
As with the msg.passbrains crowd, the members of your own online community are selected according to your specific criteria and, depending on availability, invited to participate in your projects. msg.passbrains quickly and globally accommodates your customers and employees into your personal online community.
With msg.passbrains you create a win-win situation for your company and your customers in all stages of your digital product's life cycle.
Do your products and services meet customer wishes?
Would you like to learn more about the involvement of your customers in your campaigns and projects and become part of our community success story?