Eine 360 Grad Lösung für Sie und Ihre Kunden
msg.IoTA ist ein SAP-zertifiziertes Produkt, welches auf SAP HANA läuft und mit SAP Zertifizierungsverfahren konform ist.
Wir versetzen Sie in die Lage, Ihre Kunden besser zu verstehen und ihnen den bestmöglichen Service zu bieten, indem wir eine End-to-End-Lösungs-Toolbox bereitstellen: Von der Angebotserstellung und Vertragsbetrachtung über IoT-Datenerfassung, Telematik & UBI bis hin zur Datenanalyse, Schadenlösungen und Kundenbindung.
End-to-End Customer Journey
Seien Sie bei jedem Schritt der Reise dabei.
Schaffen Sie eine funktionale Komplettlösung für Ihre Kunden. Stellen Sie die richtigen Informationen zur richtigen Zeit bereit, fördern Sie sicheres Fahrverhalten und unterstützen Sie in Notfällen. Bewegen Sie sich aus dem Hintergrund Ihres Kunden in den Vordergrund.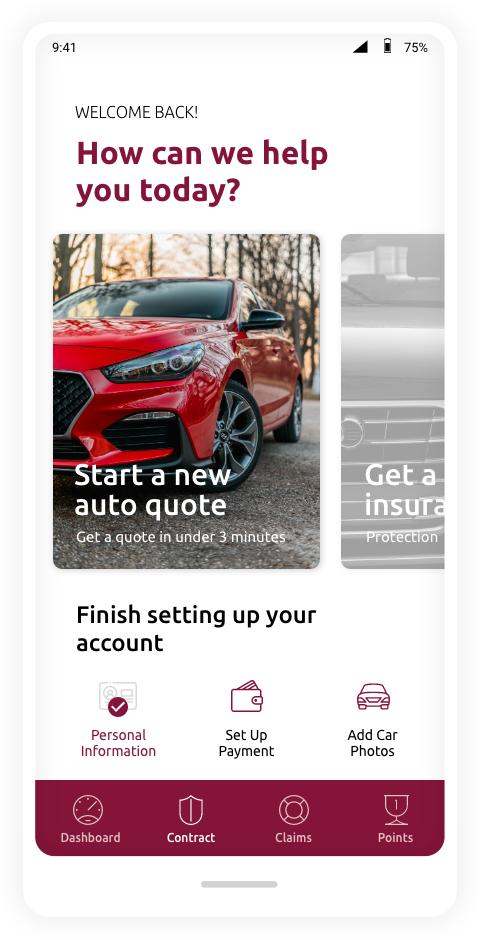 Angebot
Schaffen Sie ein intuitives Erlebnis von der Angebotserstellung bis zum Vertragsabschluss.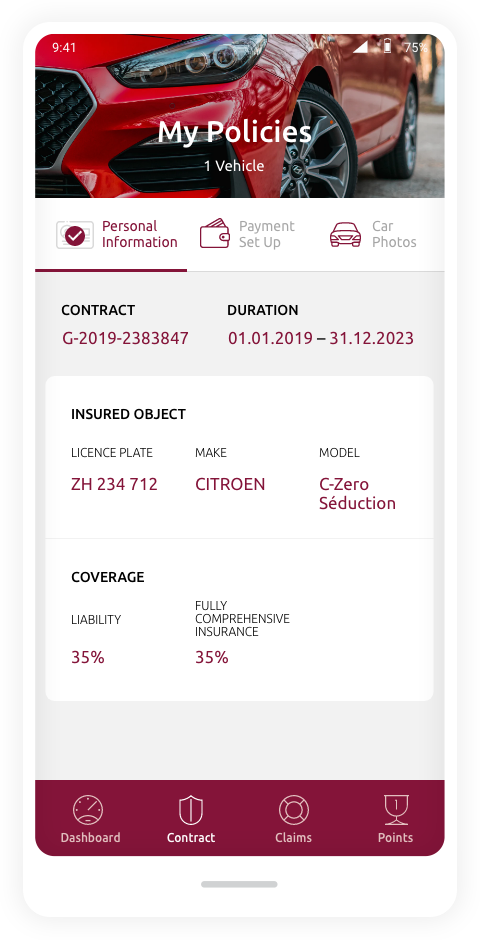 Vertrag
Ermöglichen Sie Ihren Kunden, jederzeit und überall auf ihre Verträge zuzugreifen und diese zu verwalten.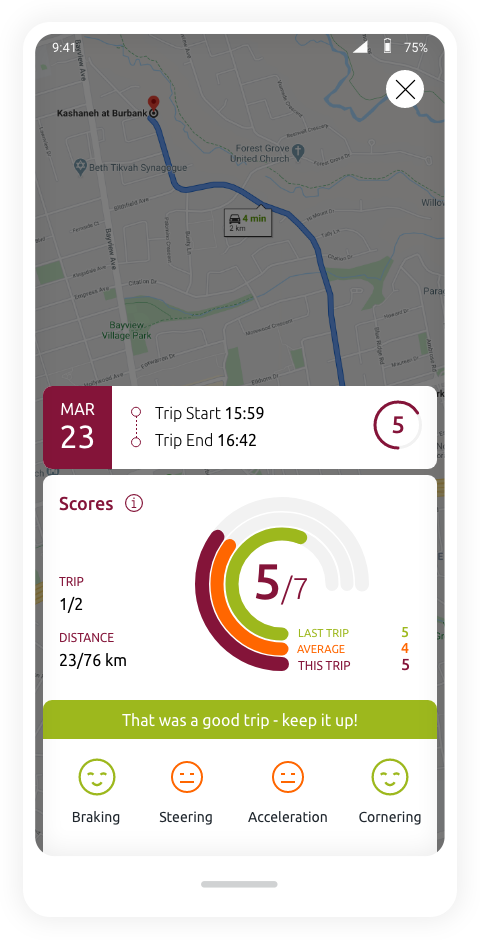 Reisen und Punkten
Zeigen Sie die Scor-Berechnung auf Basis individueller Fahrbewertungen nach jeder Reise an.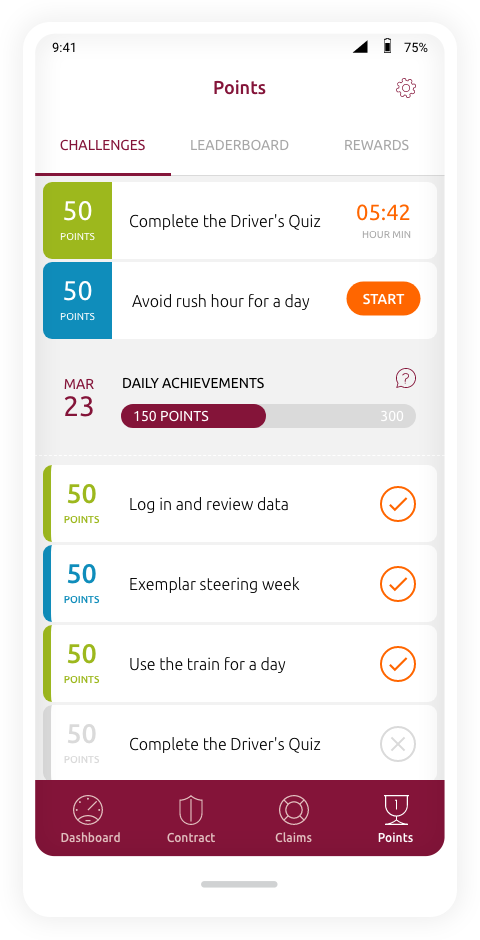 Gamification
Steigern Sie das Engagement durch Herausforderungen, Belohnungen und Treueprogramme.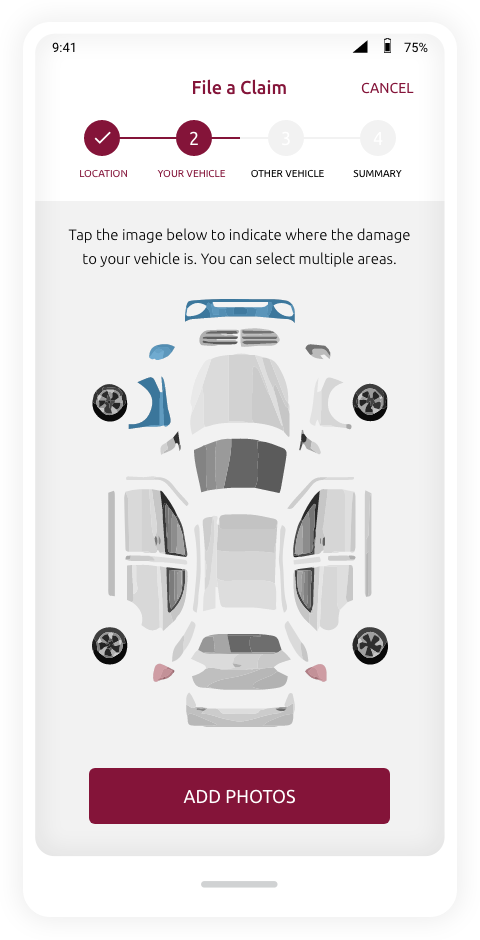 Schäden
Erleichtern Sie die Schadenerstmeldung für Ihre Kunden und beschleunigen Sie die Prozesszeiten.
Quoting
Provide your customers
an intuitive quotation and contract signing experience.​
Contract​
Allow customers to access and manage their policies anywhere and anytime.​
Trip and Score
Show trips details and base premium pricing on individual driving scores.
Challenges
​Increase engagement through challenges, rewards and loyalty programs.
Claims
Support your customers, increase FNOL reliability and accelerate process times.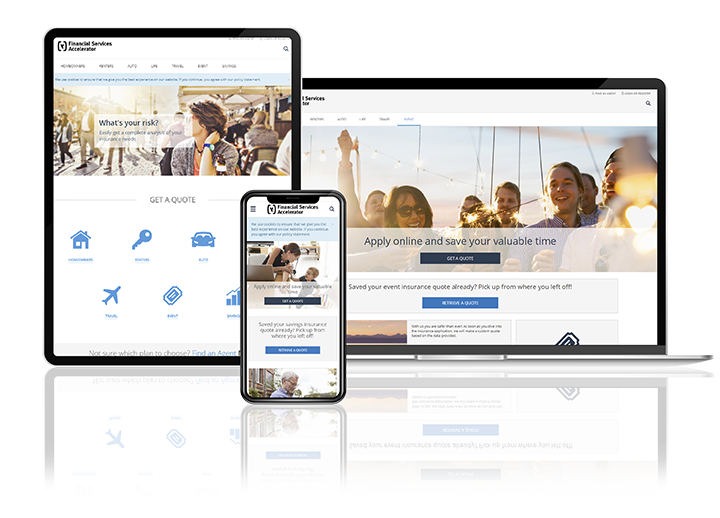 Befähigen Sie Ihre Kunden ihre Verträge zu verwalten
Weg von der Anonymität, hin zu mehr Zufriedenheit und Loyalität: Helfen Sie Ihren Kunden dabei, die richtigen Produkte zu finden und zu entdecken. Ermöglichen Sie einen intuitiven Angebotsprozess und eine nahtlose Umwandlung eines Angebots in eine Police. Schaffen Sie die Möglichkeit, dass Ihre Kunden ihre persönlichen Daten, Policen, Ansprüche, Zahlungen und Kommunikationskanäle jederzeit und überall verwalten können.
Sammeln. Analysieren. Anwenden.
Sensor and Third Party Data
Unsere quellenunabhängige Datenerfassung gepaart mit internen Informationen oder Drittanbieterinformationen ermöglicht es Ihnen, aussagekräftige Einblicke in das Fahrverhalten zu erhalten.
Scoring Engine
Die Scoring Engine ist das Herz von msg.IoTA und erlaubt es Ihnen, maßgeschneiderte IoT-Analysen und Risikomodelle zu erstellen und zu pflegen.
Data Services
Unsere Datenanalyse erlaubt eine komplette Implementierung eines umfassenden IoT-Ökosystems mit Kundenportal, Policenverwaltung und Datenanalytik.
Machen Sie aus Wochen Minuten. Seien Sie da wo Sie am meisten gebraucht werden.
Stellen Sie Notfall- und Unterstützungsdienste bei einem Schaden/Unfall zur rechten Zeit zur Verfügung und unterstützen Sie Ihre Kunden, wenn diese Sie am nötigsten brauchen.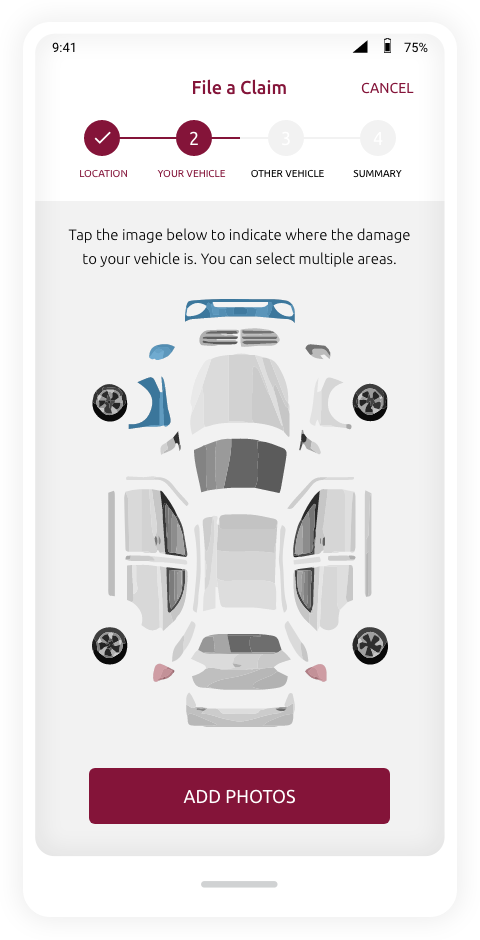 Dynamische Fragebögen
Führen Sie Ihre Kunden durch intuitive Prozessabläufe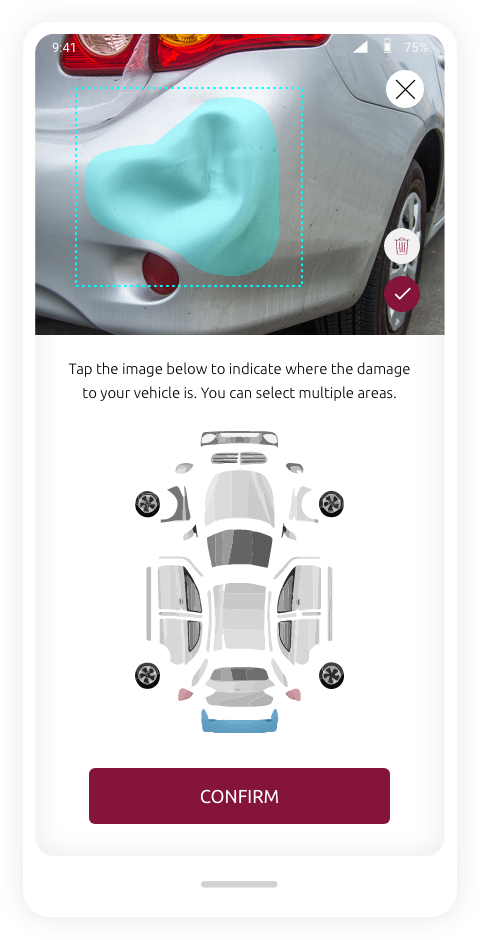 Image-To-Data
Bewerten Sie den Schaden mittels Bilderkennung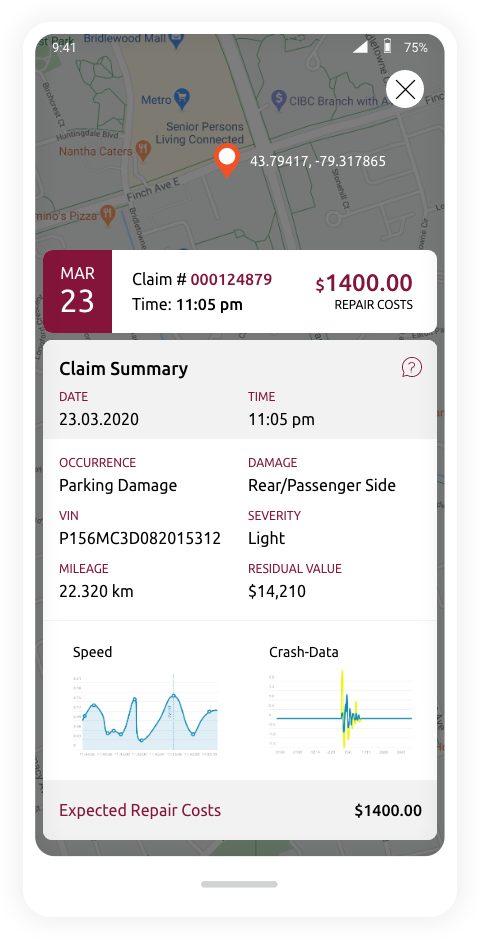 Telematik
Erhalten Sie in Echtzeit Unfalldaten und Schätzung der Reparaturkosten
Beschleunigen Sie die Schadenabwicklung durch eine geführte Schadenbearbeitung oder erhalten Sie die Schadenerstmeldung in Echtzeit durch eine telematische Unfallbenachrichtigung. Unsere KI liefert Ihnen in Minutenschnelle eine Schätzung der Reparaturkosten, den Restwert des Fahrzeugs und Empfehlungen für die nächsten Schritte.
msg.IoTA gibt Ihnen die Kontrolle über Ihr IoT-Portfolio: Ihre Aktuare und Underwriter können eigene maßgeschneiderte Scoring-Modelle entwickeln und implementieren.
Wir unterstützen Sie dabei, diejenigen Optionen und Tools zu wählen, die am besten zu Ihrem Budget, Ihrem Zeitplan und Ihren Präferenzen passen.
Beratung
Wir entwickeln mit Ihnen einen klaren, überzeugenden und strategischen Umsetzungsplan für Ihr Projekt.
Design
Schärfen Sie Ihr Design für Ihre Kundeninteraktion, sodass Ihr Produkt mehr heraussticht.
Implementierung
Wir stehen Ihnen bei der Entwicklung einer State-of-the-Art Lösung beratend zur Seite.
Analyse
Erstellen Sie mit unserer Unterstützung gezielte Risikomodelle und bewerten Sie die Daten aus dem Kundenverhalten.
Datensammlung
Bei der Auswahl der richtigen IoT-Quelle und der Anreicherung der gesammelten Daten mit relevanten Informationen unterstützen wir Sie jederzeit.
Logistik
Wir verbinden Sie mit den richtigen Partnern und begleiten Sie bei der Schaffung einer zuverlässigen Wertschöpfungskette.
Wir unterstützen Sie dabei, mehr Geschäft zu generieren und dieses effizienter zu gestalten.
Kontaktieren Sie uns!
Konstanze Siepmann
Abteilungsleiterin
Insurance SAP Consulting