01/12/2022
At the Energy Global Award in Vienna the IT and consulting company presented its new member checkpoint.eco.
The IT and consulting company msg is now the majority shareholder in checkpoint.eco GmbH (www.checkpoint.eco), a consulting portal for energy saving measures in the buildings and renovation sector developed in Austria. The platform and its takeover by msg were presented at yesterday's Energy Globe Award in Vienna.
Recommendations and benchmark data for more energy efficiency
checkpoint.eco is a comprehensive, interactive and market-independent consulting portal. Companies or municipalities that want to construct or renovate a building can use it to cut their energy costs by up to half and at the same time significantly improve the CO2 balance of such buildings. Users simply enter data such as building type, energy consumption, construction year and region into the tool and immediately get the evaluation and many practical tips on materials and construction methods with saving potential. For financial services providers, for example, checkpoint.eco can be used to derive evaluation parameters for sustainable investments and financing. Energy suppliers can use the platform to increase process and cost efficiency in the deployment of energy consultants, develop new cooperation models and initiate further sales opportunities.
Ten years of development work lie behind the solution. It was launched in Austria just a few months ago – with resounding success: Over 200,000 citizens and around 50 municipalities in Austria have used the platform within the last few months.
Digitalization and sustainability go hand in hand
"checkpoint.eco GmbH is the first manufacturer-independent tool of its kind that shows a sustainable path to greater climate protection, energy efficiency and CO2 reduction in the important building sector," said Dr. Jürgen Zehetmaier, member of the executive board of msg, at the presentation of the Energy Global Award, the environmental award of the Austrian-based Energy Globe Foundation. "As sustainability has long been a key issue at msg, checkpoint.eco perfectly complements our existing portfolio in the ESG sector, which is central to us."
In Germany, msg has been the majority shareholder in checkpoint.eco GmbH since mid-November, supplemented by the minority shareholder Meine Mediatec GmbH, a company of independent consulting and planning engineers from the building technology sector.
The initial aim is to successfully launch the solution on the German market. There are also plans to add further modules, such as photovoltaics, to the platform in the future and to extend it to other areas of life such as mobility, water and leisure.
Renowned guests at the Energy Globe Award
The Energy Globe Award has been the leading World Award for Sustainability for over 20 years and is now based on around 25,000 sustainability projects from more than 180 countries. This year's event in Vienna was once again attended by many renowned international guests, including Nobel prize winner Prof. Mohan Munasinghe.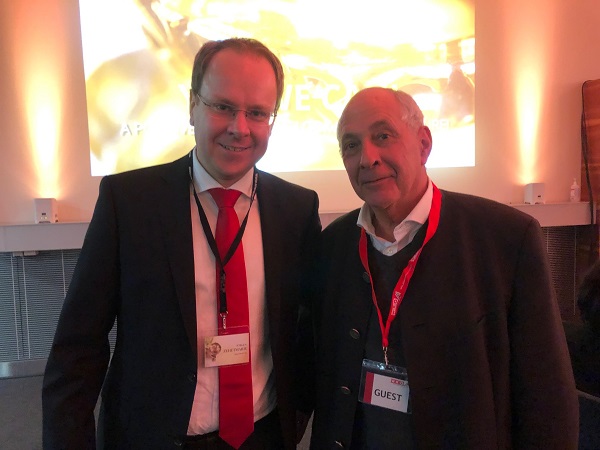 Dr. Jürgen Zehetmaier (left) and Wolfgang Neumann, founder of the Energy Globe Foundation (right)