User research
You want to validate your product or service concept, need user experience breakdowns for prototypes or want to evaluate the usability and performance of your release candidates?
The services of msg.passbrains offer valuable user experience insights during all stages of digital development. Our platform offers you a clear picture how your digital products and services are perceived by your most important target audience and how you can improve them even more.
Do you have any questions?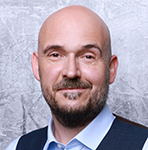 Johannes Widmann
Head of Department
Digital Assurance
Selection of your test group
We select representative user groups from our international crowd community based on the specific criteria of your target audience, their demographics, or their location.
Remote user experience studies
We design critical user journeys and comprehensive questionnaires for your user experience studies. Study participants give quantitative and qualitative feedback, deliver detailed bug reports and point out opportunities for improvement.
With our comprehensive final test reports, you'll get a clear summary of all the study and test results as well as distinct recommendations for action.
Video recordings of the user journey with commentary
During our user experience tests, selected test teams record their sessions. They comment on the steps carried out and explain how they like the application, their opinion on how intuitive the navigation of the tested product is and which of their expectations were met or not met.
You receive the most relevant and critical insights from all submitted video recordings in one single video.
Continuous monitoring of digital experiences
Digital experiences are not solely created at first contact. Your customers' impressions can change over time when they delve deeper into the functionality of your product or if they learn about your competitor's products.
With our user experience insights accompanying the development process, you can continuously collect quantitative and qualitative feedback from representative customer panels. Resulting in permanently satisfied users and successful, long-term customer relationships.
How to turn users into real fans
With the customer experience services from msg.passbrains, you can see your products and services through the eyes of customers and ensure that users are permanently satisfied:
Find out how your digital products and services are experienced by the entire spectrum of your customers.
Understand the strengths and weaknesses of your product and target specific issues.
Convert insights into positive user and customer experiences during different phases of the customer and product life cycle.
Involve your customers in the development of your products and services at an early stage and receive valuable ideas and suggestions for improvements made by future product and service updates.
Gain insights into specific factors that create customer satisfaction and ensure long-term enthusiasm, loyalty and a high level of trust.
Strengthen the bond with new customers, learn first-hand from the experiences of current customers and ignite the spark again for inactive customers.
msg.passbrains' UX and CX services
include online surveys, issue tickets, forum discussions, product reviews and much more.