The one app for all operating systems
Xamarin can be used to develop native apps for iOS, Android and Windows. What makes Xamarin unqiue, however, isthat its apps are equally suitable for use on all three operating systems. Meaning, one app –any operating system. Saving you time and money. As a certified Xamarin Premier Consulting Partner, we can help you design and develop your app.
The traditionalapproach to app development is to develop a separate app for each operating system. The images below show the most well-known operating systems and technologies, as well as the tools needed to develop an app. Apps developed using the traditional approachare referred to as "native apps", asthey are specifically designed and developed for the respective operating system. Of course, that also means 3 different development teams using 3 different programming languages, which in turn means high costs and tends to be very time-consuming.
An overview of the benefits

Low cost

Low cost
Lower costs and less time-consuming, asappscan be developed by one team using a single programming language.

Optimal effort

Optimal effort
Effort involved in maintenance and ongoing development is considerably less, since only one code has to be maintained and modified.

Best performance

Best performance
Native, and thus high performance on all operating systems.

Consistent

Consistent
Design and realization from a single source.
One development, many uses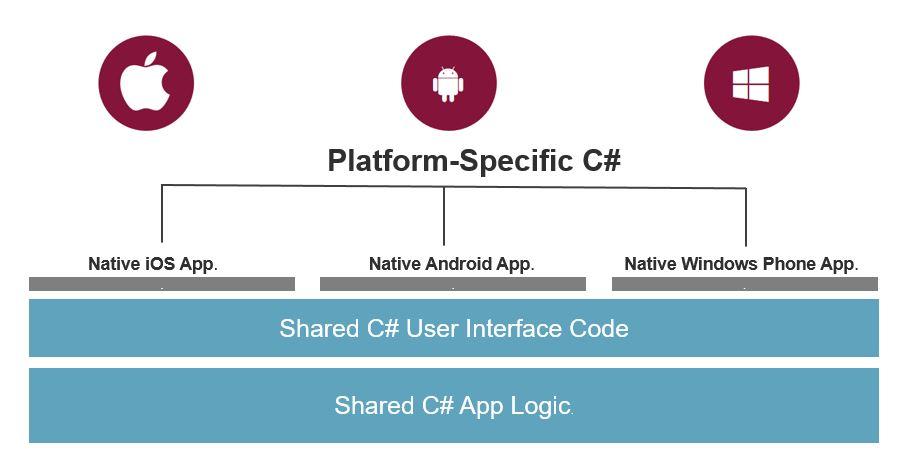 As a certified Xamarin Premier Consulting Partner and a Microsoft Gold Partner, msg offers consulting and implementation expertisefrom a single source. We would love to help you develop your app.
Schedule your initial, free consultation with one of our experts