msg.IDEAROOMS – Rethinking Innovation Processes
Successful innovation is no sure-fire success. It's usually the result of an elaborate and complex management process. The integrative innovation and collaboration platform msg.IDEAROOMS optimizes this process. This way, your company can continuously create and achieve innovation through systematic idea generation and digital cooperation.
Whether in the business environment or software development, across the entire company or in individual areas. msg.IDEAROOMS is highly versatile and flexible. Thanks to the platform's modular design, you can either use it at a specific innovation point or map the entire innovation process. We provide you with independent consultancy.
"From trend analysis to funding to quality testing: msgIDEAROOMS leads you step by step to innovation success. You remain as flexible as possible in your innovations process."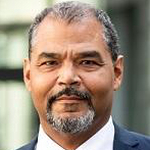 Recardo Jackson
Executive Vice President
Test & Quality Management

How msg.IDEAROOMS works

Identifies your chances of market success at an early stage
Editor-Based
Current topics and trends: Discover how trends develop
Monitor technology and business trends using expert-based surveys
Analyze and prioritize challenges
Machine-Based
Search and analyze AI-based trends from internal and external data sources
Capture actionable insights and identify relevant, meaningful problem areas, solution approaches and requirements
Crowd-Based
Specialists monitor technology trends for you
Specialists regularly conduct digital panel surveys for you
Enables you to achieve a permanently high frequency in innovation

Idea Boards
Easily capture ideas from your employees
Comment on ideas and start a dialog
Transparent overview through status and tag filter function
Votings
Assess ideas, democratically and anonymously
Enter constructive contributions in a comment field
Set a voting quota for each board
Filter the best ideas using vote hurdles
Organization
Track status workflow
Quickly identify similar ideas
Notify other participants about board activities
JIRA-Schnittstelle
Automatically supplement project backlogs with your ideas, reported bugs or features
Reduces your risks in the innovation process
Direct Digital Polls
Gain insights from interviews, surveys or observations
Obtain a secure and neutral basis for decision-making for the selective improvement of your innovations
Design Research
Obtain feedback from target groups regarding specific drafts, services or product ideas based on static or dynamic wireframes or mock-ups early in the development phase
Filter ideas and obtain indications of their acceptance from the target group
Committees
Establish committees for special aspects
Jointly evaluate innovation in the corporate context
Finances your visions through optimal use of corporate innovation budgets
Corporate Crowd Funding
Launch campaigns with milestones on the platform
Inform internal investors and sponsors about business cases, investment goals, timelines and rewards
Jointly decide whether a vision is profitable
Achieve funding goals if new ideas also pay off for internal investors and sponsors
Campaign Overview
Select attractive campaigns
Invest using reward offers
Anonymously or publicly support a project
Post funding pledges
Funding Dashboard
Collect funds
Track the status of your campaign at any time
Keep track of the list of investments as sponsor and recipient
When the target is reached: Request payment and start project
Flexibly, efficiently and comprehensively organizes your collaborative project and schedule management
Project Management, Tasks and Calendar
Create projects with start and end date
Simply plan, distribute and control tasks and task packages
Create timing at task level
Record working time at task level for each work unit and as total
Indicate progress with status
Get an overview of all tasks: In the interactive calendar, on the Kanban board or using an interactive Gantt chart
File Management
Store project files centrally and structure them in individual folders
Add and comment files and automatically assign names and timestamps
Store and edit project files either restricted to project managers or visible and accessible for everyone
Reporting
Export project reporting to Excel using the project manager
Evaluate target and actual times in Excel
Discussion Groups
Network like-minded persons in project-specific discussion forums
Safeguards the quality of your innovation
msg.Crowdtesting
Leverages the collective intelligence of a representative group of testers for exploratory tests
Real end users test in selected region in short test cycles on their own devices under real conditions
Consulting
Test Management
Managed Testing Services
Test Automation
Load and Performance Tests
Project, Risk & Quality Management
Application Lifecycle Management
Real added value instead of ready-made concepts
Modular and flexible
use cases
From analysis to testing
on one platform
Well-engineered product thanks to continuous feedback
More efficient innovation processes = faster ROI
Successfully implement your innovation processes
using msg.IDEAROOMS.